Your Cruising Destinations
Sardinia
SAILING CONDITIONS
Sardinia and Costa Smeralda wild and untouched provides sailing conditions similar to those of Corsica: the predominant winds are westerly (south-westerly to north-westerly). Apart form the Mouth of Bonifacio, renowned for its difficulty, weather conditions are mainly calm in the summer.
As a general rule, Sardinia is similar to Corsica in that weather conditions can change very quickly and the wind near the coastlines can be violent in storms. For a sailor who has experience of the Channel and the Atlantic, navigation is easier but the wind conditions are unpredictable. Unless you are in an area of low pressure there are no precise wind flows and the wind can change direction unexpectedly. When at anchor, it is vital to follow weather forecasts to avoid nasty surprises. If there is a bad weather warning "avviso di burrasca" information is transmitted on channel 16.


Departure from SANTA TERESA DI GALLURA
Archipelago of the Maddalena - 1 week cruise

This is a sailor's paradise, with blue seas, crystal waters, the wild and solitary landscapes of Caprera and the air filled with the scent of thyme, rosemary and lavender.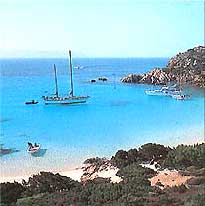 Departing from St. Teresa we will sail to Porto Pollo-Palau (12 m), Palau-Portisco (15 m), the Natural Park and archipelago of the Maddalena, scattered with isolated beaches, the famous pink beach of Budelli, Palau-Budelli-Santa Maria-Razzoli (22 m), and Portisco-Cala di Volpe-Porto Cervo-Cannigione (14 m)





Book your Vacation!