Crewed catamaran charters


Your Cruising Destinations
Corsica
SAILING CONDITIONS
Corsica, one of the most appealing islands in the world for sailing. Throughout the summer, winds are light apart from at the northerly point of the island and the southerly Mouth of Bonifacio, where the westerly winds are generally moderate to strong in force.
There are few anchorages that are sheltered from the Mistral on the western coast of the island. The ports are generally well-equipped but very busy in the summer. You will need to be careful when sailing near the isles or in the gulfs.

ACCESS FROM FRANCE
- 3 international airports: Calvi, Ajaccio and Figari (20 km) from Bonifacio.
- Ferries from Toulon and Nice on the French coast (Ferry company: Corse Mediterranee) and from Genoa and Livorno on the Italian coast (Ferry company: Corsica Ferries).
Links:
www.airfrance.fr
www.sncm.fr

PRATICAL INFORMATION
European zone of the Euro. Provisions are easily found in each departure base and all along the coast in the supermarkets and colourful markets, overflowing with Mediterranean specialities. The local wine, cold meats and cheeses are in general mouth-wateringly good.
In the summer months it is best to enter the ports at around midday, whether you are looking for an overnight stay or simply stocking up on provisions.

TAXES and ADMINISTRATION
A European identity card is required.
The National and regional parks are not taxed. Please ensure that all beacons and regulations are strictly adhered to. Fires and barbecues are forbidden during the summer months.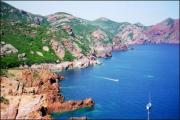 NOT TO BE MISSED
You should visit the fortified towns of Calvi, Bonifacio and Porto Vecchio. You should also see the red-rocked gulf of Porto and the Scandola reserves. South of the Mouth of Bonifacio are the granite Islands of Lavezzi and the archipelago of the Maddalena. Wherever you sail in Corsica you will marvel at the beautiful white sandy beaches, the air filled with the pungent scent of undergrowth and the friendly welcome you will receive from the local inhabitants.

Starting from base Bonifacio (CORSICA)
After a visit of the upper town and a few purchases of Corsican specialities from the local market, we will be ready to set sail for the north-western coast of Sardinia to drop anchor in
Asinara
(45 miles), a natural reserve inhabited only by donkeys. The following morning we leave for the
Lavezzi Islands
via the Mouth of
Bonifacio
: anchorage in Giunco cove or Lazarina cove with crystal waters surrounded by granite blocks, polished by winter storms. A short walk on the island will remind you of the terrible
Book your Vacation!